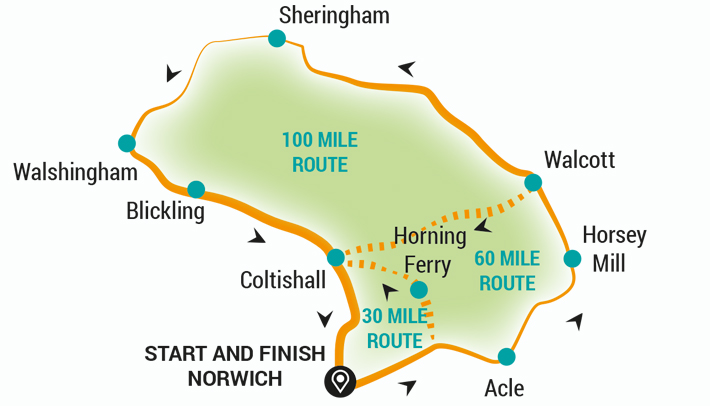 Norwich 100
The Original Century ride returns for it's 26th year! Norfolk is a fantastic place to cycle, varied countryside, quiet roads and not as flat as you think. Starting from City Hall the ride takes in the edge of the Broads, Horsey Mill, the coast and hills on the way to Cley, then back past Blickling Hall before a triumphant return with the backdrop of the Cathedral.
Music, beer tent and food at the Finish, and signed routes, GPX mapping, cycle mechanics, pick-up vehicles, medics and refreshment stops around the beautiful Norfolk countryside.
Ride Details
Start
The Forum, Bethel St, Millennium Plain, Norwich, Norfolk NR2 1TF
Map
Finish
Norwich Lower School, Bishopgate, NR1 4AA
Map
Distance
103 miles (approx)
Challenge rating
ELEVATION INFO (TOTAL CLIMB): 2325ft.
Start times
7.00am – 8.00am – individual start times printed on Entry Pack envelope (if you need to change your Start time just come along to the Bike Events tent in advance and we'll hand you a new time card).
Pricing
Entry Pack/s (enter no.) (to collect at the Start) (£23.00)
Entry Pack/s (enter no.) (posted out) (£26.00)
Team Entry (Enter no. riders) (collect at Start) (£22.50)
Team Entry (Enter no. riders) (posted out) (£25.50)
Student Entry (collect at Start) (£18.00)
Student Entry (posted out) (£21.00)
Local info
www.visitnorwich.co.uk
www.visitnorwich.co.uk/stay/
www.norfolkcyclingbandb.co.uk
Massage therapy will be provided at the Finish by www.backtorights.com
Other info
START TIMES ARE FOR GUIDANCE AND TO REDUCE POSSIBLE CONGESTION. IF YOU NEED OR WISH TO CHANGE YOUR GIVEN START TIME THERE IS NO NEED TO CONTACT BIKE EVENTS
Minimum rider age 16 years. All riders under 16 MUST be accompanied by an adult over 18yrs and wear a helmet. Road bike recommended / hybrid or mountain bike suitable with narrow tyres.
It is recommended that all riders wear a helmet. A selection of helmets will be available for purchase on the day.
** We recommend that all riders have both bike and personal liability insurances as we cannot be held responsible for damage, loss or theft of your bike or personal items or personal liability.**
GPX routes are available after online booking.