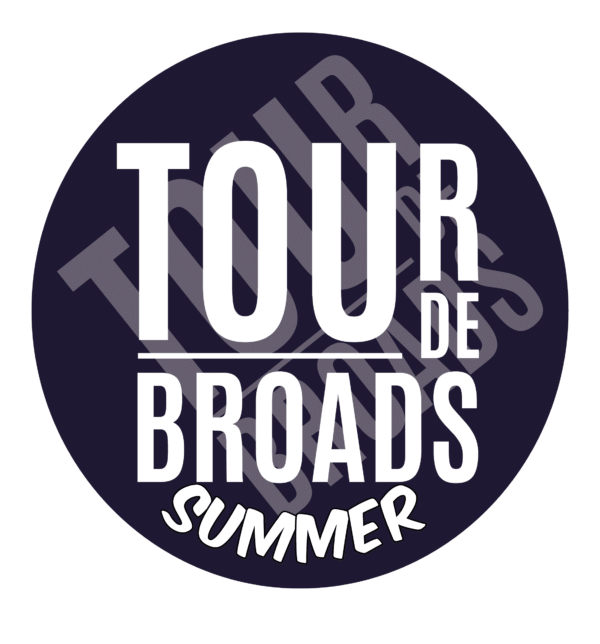 Tour de Broads (25, 50, 75 & 100 mile)
Tour de Broads Sunday
The Pedal Revolution Events welcomes you back to Whitlingham, the Event HQ for the third Tour de Broads: Summer Weekend. This time we are increasing the challenge by offering you the chance to ride either 200 or 150 miles in 2 days plus the normal Tour de Broads on the Sunday.
5 Routes on the Sunday — 25, 50, 75, 100 mile, fully sign-posted routes plus a shorter, family-friendly loop
Special Custom Inter-Linking Medal — Part 1 of 2-part inter-linking medal
Free Food Voucher
Parking
Lunch & Drink Stops
Mechanical Support
SPECIAL INTER-LINKING MEDAL
All riders who complete their ride will receive the first part of our two-part interlinking Tour de Broads 2020 mega-medal. The medal will come with a different ribbon depending on the distance completed. Ride the Tour de Broads Summer in August to complete the set.
FREE FOOD VOUCHER
All riders who complete their route will also receive a voucher for a discount off food at the event village.
PARKING
Car parking will be close tp the event village and we will provide a full detailed map of how to get to the events village as quick as possible. Full details on car parking can be found in your FINAL INSTRUCTIONS emailed on Thursday 13th August.
LUNCH AND DRINK STOPS
All riders who have entered the 75 or 100 mile rides are entitled to a complimentary meal deal style lunch. On completing the first 50 miles of your route, you will return to the event HQ to be feed and watered.
There are numerous opportunities along all routes to stop at the designated water stops to refill your water bottles. There will also be opportunities to buy hot drinks and snacks at certain stops.
Please contact us if you have any specific dietary needs
MECHANICAL SUPPORT
We will have our qualified mechanics at the venue to check over your bike pre-ride. There will also be an SOS hotline to summon our mobile mechanic should you have any mechanical issues en route.
Routes
There will be a choice of five Sunday routes: 25 miles, 50 miles, 75 miles and 100 miles, as well as the family ride.
Actual routes TBC
Tour De Broads Saturday Information
Tour De Broads Saturday is new for 2020 which is an add on to the Sunday Tour De Broads. We have challenged you to ride ether a extra 100 Mile course on the Saturday to make your tour de broads experience awesome.
You can expect everything you already expect from Tour De Broads plus an extra special gift for all those who complete the 2 days.
The Saturday event is not available as a stand alone option.