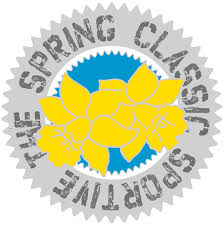 Norfolk Spring Classic Sportive (25, 50, 75 & 100 mile)
Norfolk Spring Classic Sportive
The Spring Classic – the perfect way to get some miles into the legs and a chance to test out your early season fitness.
This event has sold out in the previous THREE years so please don't leave it too late to book up. We are limited to 700 riders.
The 25 mile routes are designed as a figure of 8. Loops of 25 miles in two directions using the Start / Finish as the Feed-Zone. On the day you can choose from either 25 / 50 / 75 or 100 miles.
For 2020 we have designed a new route which we believe is even better!
The routes has been chosen to be free flowing and take in some beautiful countryside around the village of Swanton Morley. There is even a surprise on the the 2nd loop with 2 miles to go…….
If 25 miles is too far we have our shorter 8-10 mile route. This has been designed to be family friendly with low traffic.
What you get:
Full route signing, finishers medal, feed-zone with water, energy drink, bananas, sweets, biscuits and crisps. Mechanical support.
Ride For Charity:
For 2020 we have donated 10 spaces per event and 5 spaces for the Round Norfolk Epic. The spaces are free to ride. To get one of these free spaces all you have to do is raise money for Break. For more information please email Helen Dingle at Break Charity. If you chose to ride for Break you will get a Break Charity Rider number and a Break Charity T-shirt.
Optional extras:
Car-parking at the event centre will cost £2.00 per car on the gate.
Tea and Fresh Coffees,
Home Made Cakes
BBQ (delicious burgers and sausages from Salamanca Farm Butchers Stoke Holy Cross)
Cold Drinks.
Event Information
Cost:
8 miles £8.50*
25 miles: £14.00*
50 miles: £14.00*
75 miles: £14.00*
100 miles: £14.00*
Under 16's £FREE**^
*plus £1.50 booking fee
** Each under 16 must be accompanied by a full paying adult.
^ £1.95 under 16's booking fee
Date:
Sunday 10th May 2020
Location:
Swanton Morley Village Hall, Maans Lane, Swanton Morley, Norfolk, NR20 4NP
Registration Open:
7:30am – 10:00am
Start Time:
7:45am – 8:45am (100 Miles)
8:30am – 9:30am (75 Miles)
9:00am – 9:45am (50 Miles)
9:30am – 10.00am (25 Miles)
9.30am – 10.00am (8 Miles)
Event Closes
17:00hrs
Entry on Day:
Yes If not sold out +£7.00 surcharge
Pre Event info pack:
Will be emailed when online entries close.
This Event Includes:
• Event Centre Facilities
• Event Specific Finishers Medal
• Event Photography
• Free Drinks and Snacks
• Full Route Marking
• Garmin + GPX Downloads
• Event Catering
• Mechanical Support
• First Aid and massage at Event Centre